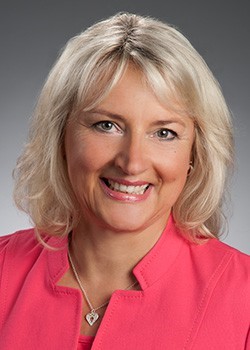 Wer schreibt hier?
In unserem Blog erhalten Sie
Hintergrundinformationen
über Immobilien aus
Mallorca und Umgebung.
Die Autorin ist Claudia Kock,
geprüfte Immobilienmaklerin
mit mehr als 27 Jahren
Erfahrung.
Important tips and information for emigrants
How do I get my NIE number Mallorca?
No real estate purchase without NIE
NEVER is the handy abbreviation for NIE number, the Spanish Némero de Identidad de Extranjero. As a foreigner's identity number, it serves a wide range of purposes in Spain.
Among other things, the NIE number for the foreigner is a tax number Spain. While for the German citizen here in Germany the identification number of the Federal Central Tax Office and the tax number of the local business tax office are different, i.e. two things, in Spain the NIE number is at the same time the alien identity number and the tax number Spain.
The Spanish holidaymaker should have them with him with his documents, while the NIE is essential for a longer or permanent stay on the Spanish mainland or on one of the Spanish islands such as Mallorca.
A NEVER number must always be requested, it is not automatically assigned
The Spanish Government's objective is to identify foreigners residing in the country for private, professional or business reasons. This applies not so much to weekend or short-term holidaymakers, but mainly to those who live and live longer under the Mediterranean sun.
Participation in social or business life is hardly possible in Spain without NEVER. For example, if you want to buy a property in Mallorca, the NIE number is unavoidable. The purchase of real estate with notarial proof of the purchase contract and subsequent description in the Spanish land register is only one example of the necessity of the NIE.
Other reasons for this include renting an apartment, studying at a Spanish university, taking out insurance, buying a car or opening an account. In all situations in which the person concerned has to prove himself, the presentation of his NIE is expected or required.
NEVER apply for number either in Germany and in Spain
For stays in Spain, the NIE can be applied for both here in Germany and locally in the country. The person concerned is on the very safe side if he already carries the NIE with him on entry. He can neither know nor know what might happen to him.
Oficina de extranjeros Palma de Mallorca
Without the NIE, an administrative procedure can stall without being able to do anything about it. The Authority invokes the necessity of the NIE. The foreigner must accept this and follow it. With NIE, such a situation is ruled out.
Here in Germany, the application route for the NIE number leads to the Spanish embassy or to one of the nationwide consulates-general in Düsseldorf, Frankfurt, Hamburg, Hannover, Munich or Stuttgart. The Spanish embassy is based in the German capital Berlin. The multilateral application shall be attached to the following documents:
Identity card or passport with proof of registration in the original
One of the two as a one-sided copy
The application must be completed in Spanish either by machine or by hand in large block letters. The NIE applicant has no influence on the duration of the processing time. Experience has shown that he has to reckon with six to eight weeks, although three months is not uncommon.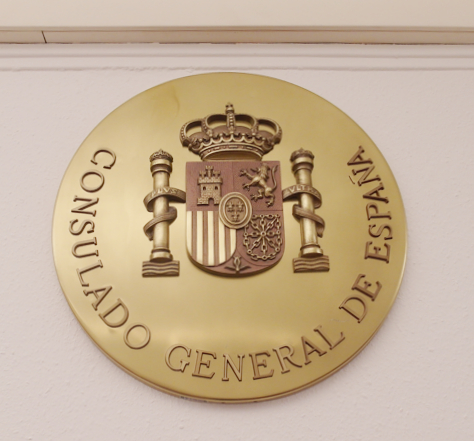 The Spanish police are responsible for the granting of the NIE in the country
Here a distinction is made between the local and the national police. The NIE number is issued exclusively by the National Police. All documents to be provided are identical to those in Germany. The processing time can take one, two to eight weeks.
The principle here is that police stations in large cities require significantly more time than those in rural areas. At best, the applicant will be given the pick-up date at the time of submission of the application. Nie costs in the single-digit euro range are the same everywhere. Payment is made in cash or cashless in Germany, and cashless in Spain.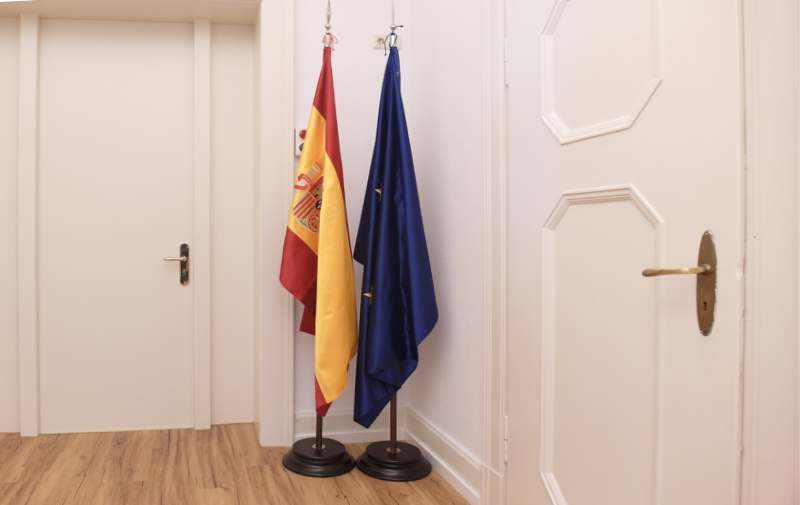 A third, but quite expensive, option is to use a Gestor, in German
This is a lawyer or notary. The mostly German-speaking Gestor offers its services in both Spain and Germany. For an individual fee in the three-digit euro range between about 150 EUR to 300 EUR, the NIE number will be issued within a few weeks.
NEVER apply for number online
The traveller saves himself the application in Spanish for his money. It also benefits from the Gestor's 'short line' to the competent Spanish authorities.
The high costs are also due to the fact that the Gestor works with notarised documents and powers of attorney, in which sense must work. For this purpose, the applicant is spared the personal appearance in both Germany and Spain.
The eight-digit NEVER begins with a Y followed by seven digits and a final further letter. The issuing authorities are, apart from the Spanish Consulates General or the Spanish Embassy in Germany, the Direccin General de la Polica or the Guardia Civil.
From a stay of three months, the foreigner, guest or visitor must register in the Registro Central de Extranjero. This residence permit and the identity number of foreigners are twofold. One does not replace the other, but in each individual case both are needed.
The bottom line is to
that it can help as a precautionary measure to have the NIE ready for a shorter stay in Spain. So if you need a NEVER number (tax number Spain) - we can help!
---
German cars in Mallorca - My German car in Mallorca
Would you like to bring your car to Mallorca? Or maybe it's been here longer? Then you should know the following:
Once you are officially a resident in Mallorca, you will need to re-register your vehicle.
If you are not a resident, your car may be on the island for a maximum of 6 months! These 6 months must be able to take a ferry ticket. If the Spanish authorities "catch" you, your vehicle may be confiscated.
Re-registering a car is usually worthwhile, as the Spanish car tax is cheaper than the German one. Find out more!
You can also get better prices with a Spanish "Matricula" (code) for resale on the local used car market.
For those who do not have the desire/time to take care of the re-registration, there is either a "Gestoria", which takes over the official duties for a fee of approx. 200 Euros, or you become a member of the Spanish automobile club RACE. They will help or then apply the re-registration for you.
For the re-registration you need a bunch of documents: First (!) a certificate of recognition (Homologacion) from a technical engineer. You can get it either in a workshop or through the dealer of your vehicle brand. Then (!) you will receive the necessary technical approval certificate (Ficha Técnica Spain) from the TÜV. For this, take with you: vehicle letter, Homologacion/Certificado de Caracteristicas, your N.I.E. (Némero de Identidad de Extranjeros), Certificado de empadronamiento (proof of residence) & EC certificate of conformity.
In the Hacienda (tax office) you have to pay the registration fee.
In the town hall the car tax.
In the Trafico (vehicle registration office) you will then be assigned the new number plates, on presentation of all these documents and payment documents.
Cost of this process: Around 400 euros for administration fees, etc. plus the taxes due for your vehicle.
Then unsubscribe from the vehicle in Germany. You can also do this at the German Consulate General. Present your German registration plates, the car registration certificate and the vehicle letter, respectively the registration certificates Parts I and II. The cost is about 50 euros.
German Tüv in Spain
For German motorists, too, the vehicle is then taken every two years to the TÜV (here ITV) and to pick up the badge if the test is in place. This is clearly displayed every year in different colours.
Workshop muffles often face a fine of 300,- Euro. In the event of obvious defects, the Guardia Civil also has the power to shut down the vehicle immediately.
Driving a German car in Spain
After that, when you arrive at home, you're going to have a bottle of sparkling wine and celebrate your successful re-registration. This process can take several weeks and cost a lot of nerves. When it's done, however, it gives you unimaginable feelings of happiness.
The fact is, many Germans prefer to bring their cars regularly to the mainland or risk continuing to drive around with their German license plate without permission. In the end, it is up to everyone to decide for themselves!
---
5 tips for parking in Mallorca
O'cess - 80 euros for wrong parking - that hurts. We in Germany are not used to such punishments. In Mallorca or in the whole of Spain, however, such sums are quite common. To avoid problems and stress, we have compiled 5 tips for parking in Spain.
Our 5 tips for parking in Mallorca
Pay attention to the colours on the floor: white = all good. You can stand here free of charge. Blue = absolutely solve a parking ticket. Yellow = it is best NOT to place GAR here. In the case of solid yellow lines, the "Grua" (the towing service) is threatened with a visit. By the way, they leave a chic squeaky-orange sticker on the floor and you pay something between 250 and 300 euros to trigger the car again.
Never forget to redeem a parking ticket or to redeem it in time. The O.R.A. employees (the Spanish police department) in their discreet yellow jackets are always and everywhere present. Depending on the area, it is teeming with them and with these money collectors is not good cherry food. Ticket has expired! what... Tears sometimes help.
Always pay penalties as soon as possible! It is best to do so within the first hour after the exhibition. Then you can buy yourself for between 5.50 euros and 7 euros, provided you have small money with you. When the hour is over – unlucky, please pay quickly. Because within two weeks the price will be halved! With a 200-euro bill for false parking, it's worth it.
Stay calm! Don't get upset if someone easily touches your bumper when parking out. You are in Spain! The car is not a sanctuary and bumps, scrapes and co. are part of the good sound. It certainly happens that people touch your car easily and just drive away. This is normal, if not half the bumper is shredded, this is a bagatelle. The police would laugh at you if you made a riot for a mini-scratch. But beware: not every car rental company works according to these Spanish "standards"!
Think about it: It's going to be tight! Spanish underground car parks, parking spaces at supermarkets, no matter where: the size of the car park is much narrower than in Germany. For this, some people need strong nerves.
---
Store luggage Mallorca - at the Plaza de Spain
What do I do with my luggage when my plane leaves in a few hours but I still want to use my time wisely? Palma Airport does not offer me any possibility there for security reasons.
Plaza de Spain - Palma lock and go
This is a really good tip where to go with my luggage? From here you can get direct access to the airport by bus and train or, of course, by TAXI.
Palma de Mallorca Airport - Baggage drop-off Air Berlin
It is also crucial with which airline to approach Mallorca. For passengers of the airline Air Berlin, Air Berlin Palma de Mallorca offers its passengers early baggage drop-off at the vending machine.
Lockers Palma de Mallorca
This, too, as an alternative. However, when driving to the airport, the detour to the city centre should be planned in order to pick up the suitcases that have been left there.
Luggage storage Playa de Palma
In the centre of Palma, about a minute's walk from Plaza de la Reina, is the Call and Ride office. Here, too, a possibility to store your luggage safely.
Luggage storage El Arenal (Ballermann)?
Unfortunately, there are no possibilities for the delivery of suitcases here.
---
Around Mallorca there are dozens of rewarding diving spots.
Diving paradise Dragonera, light-flooded grottoes, sunken submarines and seahorses included.....
Especially on the island of Dragonera we want to take a closer look at this point.
In the small fishing village of Sant Elm our journey into the depths begins. With full outfit we drive on the inflatable towards the island. After less than 10 minutes we are at our destination: the island of Dragonera. It is not known exactly what got her name. Perhaps of the many "little dragons" that live on it, the endemic lizards, or simply because its shape is reminiscent of a dragon that, as a continuation of the Tramuntana Mountains, sinks spectacularly into the Mediterranean.
Mallorca has more to offer underwater than some people think!
But now we dive into the silence and delightful underwater world:
Just a few minutes after the dive, one is believed to have sunk into another world, the first swarms of barracuda pass almost ghostly.
Groupers in different sizes reflect your calmness and serenity and we feel safe, surrounded by an animal and plant world that makes us immediately forget the stress of everyday life.
Diving in Mallorca is pure relaxation
Not only that, menacingly open your mouths, occasionally squid and sepia leave their hiding place. Gold-beltfish and spiny mackerel romp around.
With a little luck you can watch moonfish, dolphins and even turtles. An enormous abundance of fish that can only develop there because Dragonera has been declared a natural park since 1995.
But also the enormous down-to-one underwater sits are impressive. Some steep walls plunge many meters into the depths. The visibility is, as always, excellent. Tonne-heavy boulders lie on top of each other and form small tunnels through which we swim.
The Dragonera Nature Reserve captivates everyone
With these sights, one wants to forget that it will soon be time to show up... We were only allowed to be part of this fascinating underwater magic world for a short time. Gratitude and humility are spreading.
For information about diving around the island of Dragonera there are many diving clubs in Mallorca.
Your real estate agent Mallorca
---
Dangerous animals in Mallorca
Three dangerous animals in Mallorca
Mallorca is in the middle of Europe, but there are some dangerous animals that you can meet e.g. on the beach. Here are the three most dangerous plague spirits of the island:
The most dangerous animal on land: The Passionworm
The passionworms in Mallorca are a danger to humans and animals! The hairy plague spirits are mainly in February & March near pine trees on the ground. Their hearchs provoke extremely unpleasant and sometimes dangerous reactions in humans and animals. A short touch is sufficient to trigger the strongest itching, which is usually followed by a rash. Especially dogs that sniff a lot on the ground can develop from dizziness, to fever, eye infections, asthma attacks, the risk of suffocation to life-threatening shock. As a first aid measure, the body parts can be rinsed with lukewarm water. A doctor or visit to the vet is recommended in case of violent reactions.
The only way to protect yourself from the passionworms is to avoid the areas with many pine trees during the first warm spring months.
The most dangerous animal on the beach: The Petermännchen
Petermännchen – the name sounds so cute and good. But the inconspicuous fish, which likes to bury itself in the shallow water on shallow sandy beaches in the sand, is one of the most poisonous fish in Europe! For people with weakened immune systems or circulatory problems, an encounter can actually be fatal. Whoever steps on the Petermännchen and is stung by the 15 to 50 cm long perschfisch, immediately feels a stinging pain. Since his poison can lead to an allergic shock, it is advisable to seek medical advice! On the way to the doctor, warm to hot wraps are a good idea, as the poison of the Petermännchen consists of proteins and are quite sensitive to heat.
Especially on flat beaches like at Es Trenc we recommend: Put on bathing shoes!
On the menu in the restaurant or at the market you will find the Petermännchen – then usually without poisonous sting – under the name: spider fish. Well good appetite!
A Dangerous Animal in the Water: The Fire Jellyfish
A single fire jellyfish can cause quite a lot of pain depending on the size – a whole swarm can be really dangerous. Just like with the Petermännchen, the following applies here: If you are allergic, you are quickly in danger of dying and should definitely see the next doctor.
Usually the authorities in Mallorca take care that washed jellyfish are removed quickly and warnings are issued when an increased number of fire jellyfish are on the way in the waters around Mallorca.
You can only really protect yourself with a so-called Stinger suit. The 250mm thick wetsuit offers protection and guarantees bathing fun.
As a first aid measure, vinegar, lemon juice or sea water can be used. Fresh water only causes more nettle capsules to burst into the tentacles and further poison to leak.
Have you ever had encounters with these dangerous animals in Mallorca, or if you would like to add another one, please write it to us in the comments!
We look forward to your feedback.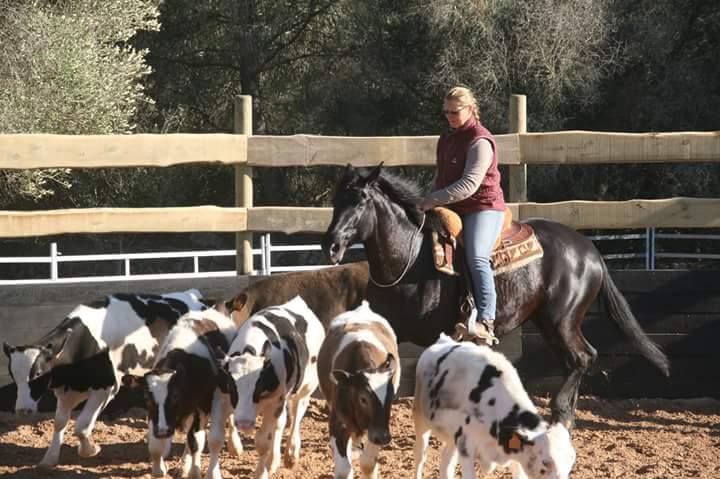 Horses and especially trotting belong to Mallorca like the Sobrassada and the Ensaimada.
Horse breeder Marion Hackner waves directly and says: "It doesn't take long until you can't ride at Es Trenc anymore. Not even in winter." With this, the Austrian brings all the horses of infatuated Mallorca fans back to the bottom of the facts. Even if in the low season there are still a few beaches where horses are allowed, the location is very unsafe and little animal friendly (similar to the theme "dog on the beach").
Marion Hackner at work
What should you even know about your own horse on the island?
First of all, Mallorca horses is crazy. More than 30,000 horses live on the largest Balearic island. Converted to the total area, this probably means the highest horse density in Europe.
Introducing a horse here in Mallorca, or keeping it here, is not as easy as you might think at first. Marion Hackner has 60 horses on her stud farm and breeds the Pura Raza Mallorquina. Marion knows his way around and knows what matters. In conversation with top properties Mallorca, Marion has summarized her most important tips.
Key facts about the import of horses
1. Think first, then act!
Before you decide to bring your horses to Mallorca, you should ask yourself some central questions, advises horse host Marion Hackner.
Is my horse's breed made for this hot terrain at all? "Haflinger or Frisians, for example, suffer incredibly from the many mosquitoes that nest in the manes. They then scratch themselves bloody," explains the breeder. Even allergy sufferers will have a very difficult stand in Mallorca. "It's just an island and there's not everything we have in Germany, Austria or Switzerland.
Do I really have enough space? The terrain dimensions that are known from home do not apply in Mallorca: "You can easily calculate 1/2 hectares per horse," says Marion Hackner, pointing out above all that feed costs are significantly higher here than in the home.
Are the geographical conditions of my finca suitable for horses? Mallorca has very different soils depending on the region. "While the red earth is disinfecting for the hooves, calcareous white and grey soils are the horror for horses and owners," explains Marion Hackner. In addition, soils may still have to be pitted. This may incur additional costs. Also keep in mind that very sandy areas may be unsuitable for the cultivation of fodder! All things that should be considered when buying the finca.
2. If a new finca owner has decided to bring his own horse to Mallorca, the preparation should be suitable. Marion Hackner advises:
Buy or rent the right plot. This is where most of the problems begin. If you don't know exactly how to find your new place to stay, you'll have problems later. For example, while trees are an important aspect of shade, pine trees in Mallorca are a risk factor. Every year, the highly toxic procession caterpillars nest there. Without effective pest control, neither horses nor riders with a pine-rich plot will have their pleasure.
Learn Spanish beforehand! It is not only worthwhile to speak Spanish during price negotiations, but often, for example, the Mallorcan hoofsmith is much more familiar with the hoof problems of this dry climate than an immigrant German blacksmith! This must be borne in mind.
Preparing everything for the horse and finished building BEFORE the animal comes! NOTHING is more difficult in Mallorca than, for example, "just yet" to build a shelter for a horse. "It's best to count not only double the time for everything, but also 20% more costs for everything," Marion Hackner knows from experience. No one has been found here at cost estimates and often it takes much longer than planned. Those who are under pressure often have to go deep into their pockets to "make things go faster."
Choose the right time for the move. Horse transport should only be carried out in spring and autumn. "So that the animals can better tolerate the temperature change," explains Marion Hackner. Caution should also be exercised when choosing the transport company. "Many companies don't let the horses out of the trailer and the animals have to stand on the spot for up to 3 days." Marion Hackner therefore recommends companies such as horse transportS Kniese (http://kniese-ug.de/) . "It is also important that horses prepare conditionally for the journey. Especially on the ship, the animals must stand on the spot for 8 hours. That requires fitness," says the Austrian. The animals should also be supported by feeding vitamins and electrolytes on this strenuous journey. "This helps above all in adapting to the much warmer climate," adds Marion Hackner.
Find vets on site and write down the numbers BEFORE you need them! Spanish vets are not required to offer a 24-hour service. "That's why I should look for several vets and see what their specialties are," says Marion, recounting that she works with 2-3 vets. Again, the more Spanish you speak, the more choice you have.
Know WHERE there is food to buy on site! If you want to save money, it is best to shop locally and at the right time. "You're less often slapped over your ear," Marion says with a laugh, "because the locals have to be able to look you in the eye afterwards in the village!" Since no grass grows in Mallorca, one should inform yourself, which alternative one could sow on the respective soil.
Contacts! Generally speaking, prices are cheaper if you personally negotiate them face-to-face. Those who buy online or by phone often pay more.
Find the right company to control mosquitoes, flies and other vermin. While plagues in Germany usually get carried away by a cold winter and the freezing of the soils by themselves, everything that horses and riders annoys here in Mallorca has free track to unfold. Marion Hackner has a company for her 10 hectares of farmland come up every month, which takes care of pest control exclusively. "Especially if you want to keep your horses close to your own finca, you also have to think about fighting rats and co." marion Hackner mentions. "You should always have the pile of mist as far away from your own house as possible," she says, raising her finger.
TAKE CARE OF DOCUMENTS BEFOREHAND. The import is more complicated than you think – clarify which papers are necessary and where the horses need to be registered (Consells in Palma, Campos, Inca, Felanitx, Sa Pobla or Manacor).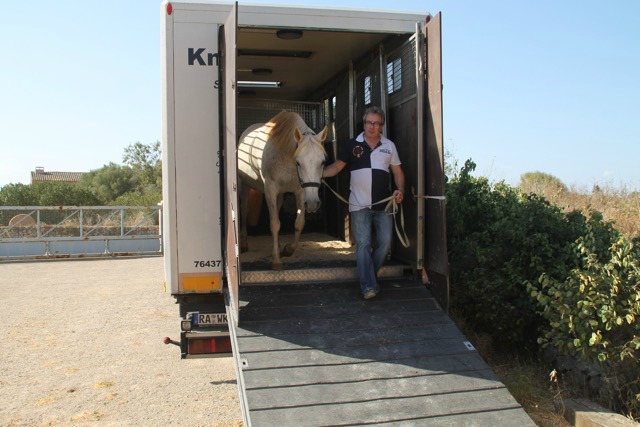 3. Keep to the rules!
If you want to avoid trouble with the authorities, you have a lot of authorities in front of your chest! The horse (and by the way also a donkey!) needs not only a chip, but also an equidae pass (Documento santiario equino= DSE & Documento de identificacion equina = DIE). Without it, the animals are not even allowed to leave their own finca. Owners also need a "Codico REGA" – a number that proves the holder's ability and can be checked at any time. This includes, for example, having a certificate that proves where the drinking water for the animals comes from and what quality it has. (Many foreigners don't know this and get heavy fines during a check.) The application for this number may take between 3 and 6 weeks. Plan everything well beforehand. Also remember that the REGA number needs to be renewed every year.
Every year from 1.1. to 29.2. the animals have to be reported and registered anew!

4. Conclusion:
If you are thinking about moving to Mallorca and bringing your horses, you should know: it is more expensive and complicated than in Germany. In addition, horses from here are often less susceptible to the problems that this climate zone poses. Just like that – bringing a horse here for the extended holiday, the horse expert considers "gross nonsense and far too strenuous for the horse".
So you should inform yourself well and note that what you know about horse keeping in your home country does not necessarily apply to Mallorca!
---
Mallorca: Dogs on the island
Mallorca: Dogs on the island
That would be something ... a life on the holiday island of Mallorca. 300 days of sun a year. The dream apartment, the sea, the beach. A cool drink in hand, a smile on your face. Pure enjoyment with a view over the glittering sea or the sublime mountains. Always by your side - your beloved dog. Sigh.
What's wrong with this picture?
Well, the dog! He has to stay at home more often than you think in Mallorca!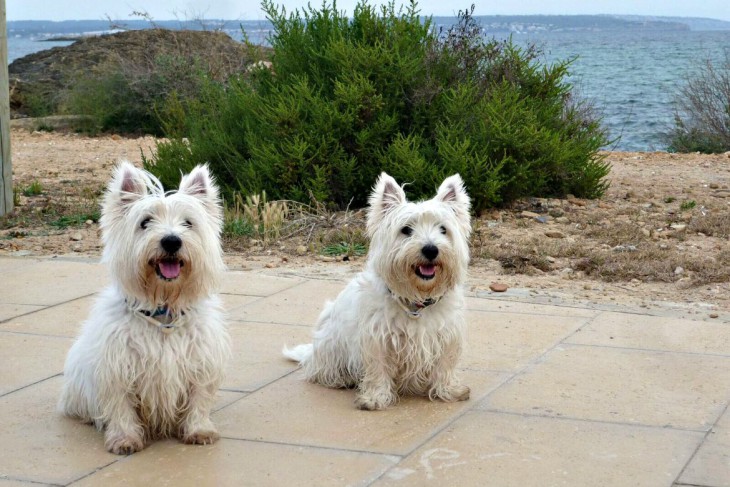 Dogs in Mallorca
Sad but true: Dogs are not allowed in most local-run bars, cafes and restaurants. Actually cute, when one in three Mallorcans has one or more quadrupeds. Nevertheless, the relationship with the pet is different. Instead of being a family member, dogs are often just a status symbol here. For example, it is part of the good sound to have a "Ratero mallorquin" – a mini version of a Doberman. The proud "Galgo Espanol" is also happily kept. Preferably as a hunting dog. If the poor animal no longer wants to hunt, or has no hunting instinct at all, the story often ends tragically for the dog. Or does the lively Ratero become too annoying, at best you take him to the shelter and chain it to the door.
Of course, this does not apply to all Mallorcans! There are also many animal lovers here on the most beautiful island in the world. But where else you go through life so casually and relaxed, you often become very strict with the subject of dogs.
The dog stays at home
One might even get the impression that dogs are per se forbidden wherever there is food. But far from it: there is no provision in the Spanish code that prohibits animals in bars or restaurants. Even if many hosts claim this! The decision is entirely up to the owner. Depending on the size and breed of the dog, the staff and operators are sometimes unenthusiastic, even chasing you away from the terrace.
But there is hope: foreign restaurateurs in particular are much more open. The probability that a German, English or Swedish owner will let you in with your beloved Fiffi is many times higher than where the typical tapas and Frito mallorquin are available to feed.
It gets really critical when it comes to dogs and the beach.
While many dogs would love to cool off on the beach, especially in the heat of the summer, the legislation on this point is (unfortunately still) merciless. According to the law, dogs in Mallorca are prohibited on the beach all year round, except for the few specially advertised dog beaches. Almost everywhere, prohibition boards remind us that in the communities (which have the decision-making power on this issue) there are few people with a heart for animals. The fines are really severe at up to 1500 euros.
Since 2013, however, there have been a few exceptions: in the municipality of Arta, the coastal areas are open to animals from 1 October to 30 April. Also in Andratx, Pollenca, Alcudia and Capdepera the walk with the best friend of man is allowed from November 1st to March 31st. The beaches in Muro are open to dogs from 1 November to 28 February.
.
The official dog beaches
Every year, dedicated dog owners fight for more freedom in the communities, but so far there are few exceptions. Of the wonderful 208 beaches and coves in Mallorca are fabulous four (!) official dog beaches. We will be happy to tell you which ones are. Well, here:
Cala Blanca in andratx
Es Carnatge between Palma and Can Pastilla
Tramo de Llenarie Beach in Pollenca
Na Patana in the municipality of Santa Margalida
But when it comes to the beach, the "problems" with dogs are not over. Because if I want to go to one of the dog beaches , how do I do that?
s?
Transport without your own car - even difficult
Even driving a taxi or bus is far from easy. Although there are taxi drivers who usually accept dogs grumblingly, you have to bring your own dishes to fasten in the taxi. Depending on the size, have a box or bag with you. A call in advance is recommended! And if it's raining and your dog has gotten wet, you can assume: it will take you NO.
Dogs are also not allowed on intercity buses and on most inner-city lines. Only the city of Palma has lifted the dog ban for a few EMT bus lines. Nevertheless, you need either a closed box or bag, or for larger dogs a muzzle.
Arrival and departure with dog
As much as we would like to tell you something else, the regulations for ferries are even worse: all dogs have to stay the complete crossing in their special boxes and are not even allowed to represent themselves on a leash and with muzzle their legs. In plain language, this means 8 hours of solitary confinement.
With the plane you can also take your dog with you on selected airlines (e.g. Airberlin, Germanwings, Lufthansa). Usually up to 6 or 8 kg including bag, then the dog is allowed into the cabin. Everything about it flies with it in the plane belly. This also means 2 to 2 1/2 hours of box for the animal. Depending on how well you have prepared your dog for the stay in the bag or box, this is generally not a problem for the animals.
Prices range from 80 to 400 euros for your dog's return ticket, depending on size and airline. In addition, the number of pets per flight is limited.
Is Mallorca with dog possible at all?
Back to the vision of the wonderful island of Mallorca from the beginning of this post: the dazzling water and the beloved dog at your side. This is only possible in Mallorca (at least for the moment) if you
a) have a house overlooking the sea.
b) Lead your dog along a leash along a seafront promenade
or
c) dream.
Pssst... At point a) we could help